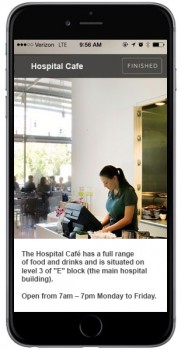 Tailor-made smartphone apps that help people navigate an aged care or healthcare facility are now available in Australia through digital mapping developers MapData Services (MDS).
The apps use indoor navigation technology to give aged care residents, visitors and contractors turn-by-turn directions through buildings, wards and corridors to their desired destination within a facility.
The solution can also incorporate points of interest such as landmarks, waiting rooms, recreation areas, toilets, emergency exits, and cafés, and send users alerts, such as visiting hours.
The app is easy to use, offers greater efficiency for contractors and reduces stress for all visitors, said MDS general manager Cassandra Barker.
"From a navigation perspective, aged care facilities are large; this technology allows a user with a smartphone to navigate to the right area," Ms Barker told Technology Review.
MDS takes a map of facility and puts it into its system to create the software, which can be used via a web browser or smartphone app to deliver step-by-step directions.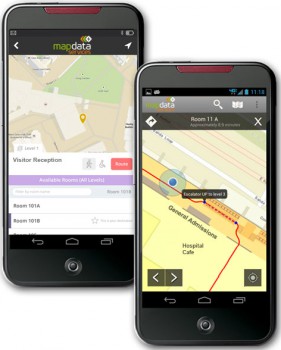 Those directions were presented as a line to follow on a map as well as with text, audio and visual cues as per user preference.
MDS partnered with software developer Geometri in the US – a location-based technology group specialising in indoor technologies and analytics – to bring the technology to Australia.
"While a new technology in Australia, it's becoming a blueprint in how healthcare providers are refining the delivery of services to ensure patient care and experience are equally vital," Ms Barker said.
The apps could also capture anonymous data on user behaviour to inform how a site was being used by visitors.
"From the aged care facility perspective, it is about providing the best care and the best service; that is the impression you are giving to people who are visiting as well as people that are moving into the facilities," Ms Barker said.
Creation of an app involved initial set up costs, an annual hosting fee but there was no charge for app downloads.
Sign up to Technology Review's weekly e-newsletter for news and analysis, as well as coverage of the latest products, resources and events. You can also follow Technology Review on Twitter. Send your company news, tip-offs and news on tech resources, products and events to negan@intermedia.com.au.