A new online application has been launched to help aged care providers connect with and update the families and friends of care recipients.
The web app Care Konnect, which was launched earlier this month, aims to provide a simplified way for aged care providers to communicate with family members.
Care Konnect was first trialled by three providers in 2018 and a fourth at the beginning of 2019. It currently being used by three residential aged care providers and one home care provider.
Each care recipient has its own private network with a live news feed containing posts, videos, images and updates about day-to-day activities. Families and friends are invited into the network and can view, comment and react to posts made by staff or resident.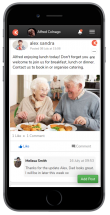 Care Konnect CEO and founder Sean Grealy said that the platform has been designed to keep families up to date about their loved one's care.
"It's all about empowering the family and friends of the care recipient to keep contact throughout the different touch points of the older person's services they are receiving," Mr Grealy told Australian Ageing Agenda.
He said their trials showed the platform could improve communication between aged care providers and a care recipient's family and friends.
"It is commonly overlooked that family are not receiving updates about their loved ones. They're only contacted in a moment of crisis, if they need to sign something or if there is a problem or an issue," he said.
"We're changing the channel of which communication takes place, which is generally emails and phone calls, we're bringing in this level, which is a lot simpler," Mr Grealy said.
"Even just getting one update a week, families are just stoked to see mum or dad happy, enjoying themselves or at an outing and just enjoying their day-to-day," he said.
The Care Konnect platform enhances transparency by providing information on what services were delivered and activities attended, which may vary to those scheduled, Mr Grealy said.
It also has a built-in feedback system, where users' feedback about care services is sent digitally to management.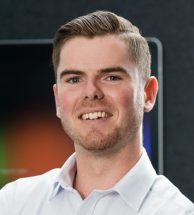 "The real-time measurable feedback about services is making it easy and convenient… not having to download a PDF and fill it out or go to the service provider's website to try to find the PDF or fill out a paper form," he said.
He said the platform also aimed to reduce stress the care recipient's primary contact may experience when they have to continually inform the rest of the family about their loved one's care and condition.
Mr Grealy was announced as the winner of the 2019 South Australian Young Achiever of the Year for the development of Care Konnect.
Find out more about Care Konnect here.
Comment below to have your say on this story
Subscribe to Australian Ageing Agenda magazine and sign up to the AAA newsletter