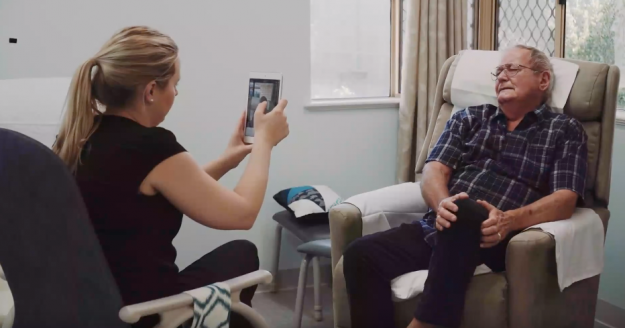 Australian digital health company PainChek has announced a landmark agreement with an aged care provider in Singapore after receiving regulatory clearance from the nation for its smartphone pain assessment and monitoring app.
PainChek has signed a deal with Allium Healthcare, which is due to open Singapore's first purpose-built premium aged care home later this year.
The deal will see PainChek used at this 129-bed facility and at Allium Care Studio, which operates two day-care facilities and a home aged care service.
The PainChek app, which originated at Curtin University, automatically assesses pain via artificial intelligence and facial recognition technology.
Allium Healthcare's Chief Executive Officer Bernie Poh said PainChek provided the capability to better assess and quantify clients' pain levels and enhance their treatment plans.
"We also see great opportunity to work with PainChek as part of our integrated care offering across our nursing home, day care centres and home care services, especially for older persons living with dementia and communication difficulties," he said.
Painchek, which already has regulatory clearance in Australia and Europe, received regulatory approval for use from Singapore's Health Sciences Authority earlier this month.
PainChek managing director Philip Daffas said the agreement could be a platform for the broader Asian markets, where there was a large ageing population.
"Many people in Asia living with dementia have a desire to remain living at home and often have good family support. The PainChek Shared Care programme will provide the capability for Allium to provide accurate pain assessments across the continuum of care and help those people live life the way they want to."
The adult version of the app is in clinical use in more than 80 residential aged care homes across Australia to better assess pain severity levels for residents with cognitive impairment.
A $5 million Federal Government initiative announced this year is making the app available in all Australian facilities with people with dementia for one year (read more here).
Services that have adopted the technology into practice include aged care providers VMCH and Churches of Christ in Queensland and Dementia Services Australia, which leads the national government-funded Dementia Behaviour Management Advisory Service and Severe Behaviour Response Teams.
Comment below to have your say on this story
Subscribe to Australian Ageing Agenda magazine and sign up to the AAA newsletter