A majority of users of an online tool to assess the likelihood of developing dementia say they will make lifestyle changes to reduce future risk, however, a similar number do not intend to follow up with a health professional, according to research presented at the National Dementia Research and Knowledge Translation Forum recently.
With funding from the Dementia Collaborative Research Centre for Early Diagnosis and Prevention, Dr Maree Farrow from the Wicking Dementia Research & Education Centre evaluated user experience and perceptions of the Australian National University Alzheimer's Disease Risk Index (ANU-ADRI).
ANU-ADRI is a test aimed at assessing an individual's risk of developing Alzheimer's disease and dementia beyond the age of 60 through a series of lifestyle-related questions.
More than 10,000 people worldwide have completed the online test. The research presented at the forum involved 184 Australian adults.
Dr Farrow said the majority of participants reported that results were easy to understand and helpful and that it motivated them to change their behaviour to reduce their risk.
"Interestingly, although two-thirds were happy to do something to change their behaviour a similar number said they were not likely to see a health professional about their results or do anything about their risk factors," Dr Farrow told delegates.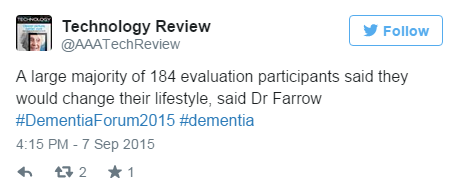 Users were most likely to change behaviour for physical activity (58 per cent), followed by cognitive activity (49 per cent) and fish intake (47 per cent), according to the evaluation.
User profiles
The average age of survey participants was 60 while 70 per cent were female, over half had a university degree and 38 per cent were retired.
Family history was the most popular reason for doing test with nearly half of respondents reporting they had a family member with dementia. A similar number were worried about their risk of developing dementia, many reported they were just curious while quite a high proportion felt their memory was already getting worse, Dr Farrow said.
Just over a third of participants (37 per cent) reported the results were better than they expected them to be while 10 per cent felt said they were worse expecting. "Those who reported family history were more like to say their results were better than they expected them to be. They were also more likely to say their results were more likely to motivate then to do something about their risk to change their behaviour," Dr Farrow said.
Future application
While ANU-ADRI targeted people in their middle age who might be at risk of dementia due to lifestyle and health factors such as smoking, obesity and diabetes, the test was becoming popular with users over 65 years of age wanting to learn more and receive advice about lowering their dementia risk, Dr Farrow said.
It was intended to roll the test out to medical clinics to use as an initial health assessment for people who might be at risk of dementia, who can then discuss the results with their GPs.
The assessment tool would also be well-suited to the community aged care sector in both the home care and home support programs, Dr Farrow told Technology Review following her presentation. However, more funding would be needed to undertake the additional projects, she said.
The test was also being used as part of a bigger ANU dementia risk reduction program called Body Brain Life. ANU-ADRI online test is available to everyone and takes 20 to 30 minutes to complete.
Sign up to Technology Review's weekly e-newsletter for news and analysis, as well as coverage of the latest products, resources and events. You can also follow Technology Review on Twitter. Send your company news, tip-offs and news on tech resources, products and events to negan@intermedia.com.au.