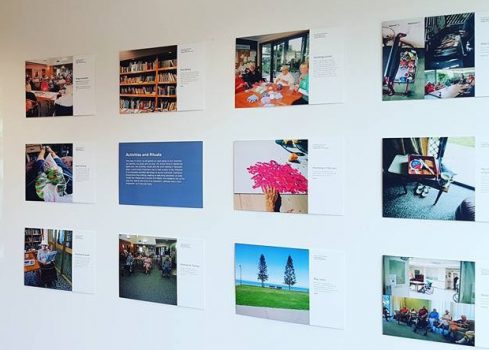 Nature, relationships between staff and residents and leisure activities and social events are the three things that make living in aged care enjoyable, Queensland University of Technology research finds.
The 12-month pilot study published in the Australasian Journal on Ageing involved 10 residents aged 66 to 92 living in an aged care facility in Queensland.
The study involved residents taking photos of their daily life in aged care throughout the year.
At the end of the pilot, 19 images were selected to be printed and then displayed in an exhibition at the aged care facility that was open to the public.
Lead researcher and Queensland University of Technology Associate Professor Evonne Miller said the study aimed to use photography to visually share the lives of people living in aged care with the public.
"We put cameras in the hands of older people in residential aged care and we asked them to take images of the highlights and the lowlights of aged care and all the moments in between," Professor Miller told Australian Ageing Agenda.
The study identified frangipanis, football and friendships among key themes that which made living in aged care enjoyable for participants, said Professor Miller, director of Queensland University of Technology's Design Lab.
"Frangipanis highlights the importance of nature and being outdoors and connecting to the wider world," Professor Miller said.
She said football represented active engagement through leisure activities and social events the residents looked forward to doing.
"Friendship is highly important, which is about building friendships with other residents as well as with staff and family," Professor Miller said.
She said the study allowed residents to express their emotions through photovoice, which combines photography and voice.
"Photovoice is commonly used when people want to share things that are of concern. It's used to raise awareness about what it is like to live with certain things such as cancer or what it is like to live in certain neighbourhoods," Professor Miller said.
She said the residents enjoyed being able to use a camera to share the aspects of aged care they liked and disliked.
"They all grew up without using cameras, so they had fun playing with it and they particularly loved the exhibition and getting their voices about aged care out there," Professor Miller said.
She said aged care providers should look at undertaking similar projects to identify what matters most to their residents and to also engage with local communities.
The pilot was part of the three-year Australian Research Council project Inside Aged Care, which looked at redesigning aged care for the 21st century and preparing for the ageing population.
Access the paper Photovoice in aged care: What do residents value? here.
Comment below to have your say on this story
Subscribe to Australian Ageing Agenda magazine and sign up to the AAA newsletter