Technology is important to creating an age-friendly future for senior Australians, according to industry experts.
Representatives of New South Wales universities, industry and government met at Parliament House in Sydney last week for the second Ageing Grand Challenge Forum, hosted by the NSW Smart Sensing Network.
NSSN is a consortium of eight universities across NSW and the Australian Capital Territory and is sponsored by the NSW Government.
NSSN co-director Professor Benjamin Eggleton said an age-friendly future requires an integrated approach. "We need to integrate innovative technology across the system to deliver practical solutions for the aging population," he said.
This year's forum discussed the emerging trend of wearable sensor technology in home and aged care facilities and the importance of understanding privacy and data issues.
"There's an interesting narrative that there is a real demand for new, efficient and safe methods to deliver quality care," Professor Eggleton said. "COVID-19 has empowered many in the ageing population to engage with technology more and that technology is becoming more accepted as central to our lives."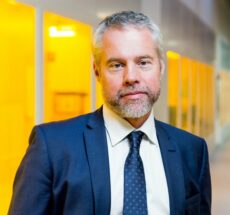 Breakthroughs in sensor technology is forcing industry to rethink basic notions, according to Professor Eggleton. "A sensor is a device that measures and detects the environment that it's in – physical or chemical or bodily conditions of the environment," he said.
It can measure and detect a myriad of things, including temperature and humidity, heartbeats or blood pressure. Sensors have been around for over 40 years, but Professor Eggleton believes we're now seeing a "revolution" in the technology.
Several factors have contributed to this, he said. "One is just the ubiquitousness of the Internet of Things, the fact that we've just got ubiquitous data, so we can place sensors everywhere and anywhere. I think the other is the nanotechnology and the fact that sensors are becoming so small and sophisticated."
The ability to exchange data between different systems and organisations, or data interoperability, is a big issue, Professor Eggleton said.
"Whatever we design and make, it's got to be designed so that regardless of the language you speak, where you live in Australia, your access to internet, what your demographic is … it should be straightforward to use (and) it should interface with other systems."
The next step for NSSN and industry is to develop new data platforms, new dashboards and new sensors.
NSSN will advocate for evidence-based collaboration on improving regulatory frameworks around data privacy issues.
At the end of the day, the aim of sensors is to empower people, Professor Eggleton said. "The idea of wearables and remote sensors, it's about ensuring people are in control of their own destiny they know about, and their family and their carers know about their health." He added: "It's not about taking power away from them, it's about giving power to them."
Main image: Panel discussion on Smart Sensing for Better Ageing in Care Settings (Image supplied by Evan Maclean)
This story first appeared Community Care Review.
Comment on the story below. Follow Australian Ageing Agenda on Facebook, Twitter and LinkedIn, sign up to our twice-weekly newsletter and subscribe to AAA magazine for the complete aged care picture.