A robotic exoskeleton that incorporates virtual reality gaming for arm and hand rehabilitation after stroke has been launched by Horcom, which specialises in robotic and sensor-based devices for functional movement therapy.
ArmeoPower, which enables intensive arm rehabilitation for early-stage patients including before they develop active movement, is the world's first exoskeleton for integrated arm and hand rehabilitation that trains even severely affected stroke patients to use their arms and hands again, according to Hocoma.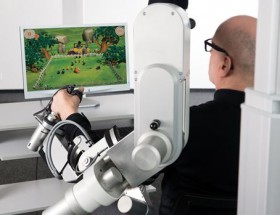 The treatment aims to help patients regain their arm and hand function by combining devices supporting the patients' movement with virtual reality exercise games that strive to motivate the user towards higher active effort.
ArmeoPower features the integrated robotic hand module ManovoPower, which supports the complete movement chain, offering simultaneous therapy from shoulder to fingers and new software that increases the patient's motivation:
Dr Vaclav Potesil, Armeo product manager at Hocoma, said the new therapy planning and reporting enabled clinicians to tailor the therapy to each patient, thereby keeping them challenged and motivated.
"It provides hospitals with an enriched environment to train and assess even severely impaired patients with much higher intensity, accuracy and reproducibility than what is possible in today's clinical setting."
The new ArmeoPower is being trialled at seven hospitals in the United States and Europe including MossRehab in Philadelphia, USA, where department chair and chief medical officer Dr Alberto Esquenazi is a pilot user of the technology.
"We know that patients with hemiparesis will greatly benefit from integrated movement rehabilitation techniques, but we had no concrete options for this approach so far. But now, ArmeoPower offers us for the first time a technology that enables us to achieve this goal by intelligently supporting the complete movement chain from the shoulder to the fingers," Dr Alberto Esquenazi said.
The Armeo therapy concept includes four products for upper extremity neurological rehabilitation, which cover all stages of the recovery process, from the most severely affected early-stage patients to long-term rehabilitation in the out-patient settings. All Armeo products combine arm-weight support in a large 3D workspace with motivating game-like exercises and assessments to track the patient's progress, according to Hocoma.
Sign up to Technology Review's weekly e-newsletter for news and analysis, as well as coverage of the latest products, resources and events. You can also follow Technology Review on Twitter.
Send your news, tip-offs and updates on your new tech resources, products and events to negan@intermedia.com.au.