A telepresence robot called Bluey has been offering a retirement living resident the chance to be in the same room as family despite pandemic-related restrictions, an aged care executive tells Australian Ageing Agenda.
The Ohmni telepresence robot has been loaned to IRT by Canberra-based robotics company Robots 4 Good during COVID to test how the technology can help with social isolation during the lockdown.
Family or care workers can remotely control the robot, which is on wheels, to move around the home.
IRT Links Seaside Wollongong resident David Robson has been using the robot with his son Peter who operates the device, since late August.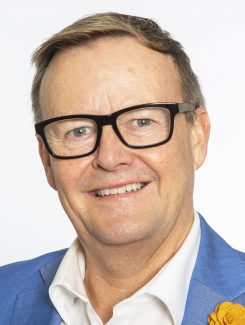 IRT Group executive general manager home care Ross Gallagher said it has helped reduce social isolation during COVID.
"Using the telepresence robot feels like you are in the room with your loved one," Mr Gallagher told AAA.
"The best part for David and Peter has been having the ability to simply spend time together in a way that they otherwise would not have been able to do due to COVID restrictions."
He said the robot, which Mr Robson has named Bluey, offers a broad view of its environment.
"The robot has a wide-angle tilting camera which gives Peter a truly immersive view into David's home, far more so than any handheld device you might use for a video call.
"It also has a secondary camera so Peter can see around the base of the robot while he's driving it around his dad's home. After calls the robot auto-docks onto a charging station," Mr Gallagher said.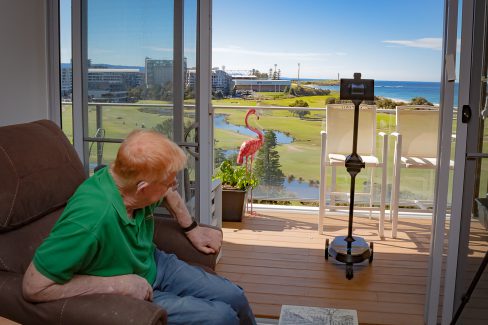 Peter Robson said the robot has been a hit with his father.
"Dad has been really stoked to have the robot. We've had a lot of fun with it. It follows him around his home and out onto the balcony where I can see the view that Dad is seeing. It's like having a window that looks right into Dad's world," he said.
IRT has also conducted Mr Robson's annual home care review via the robot, Mr Gallagher said.
"The robot can also be used to conduct home care budget reviews remotely, daily wellness checks to detect falls and could even be used in the future to monitor vitals and wound care."
He said IRT will continue to test and trial new technologies, such as the robot, to improve the lives of residents and clients.
"IRT is dedicated to improving the lives of older people. Part of that is breaking down the barriers of social isolation which poses a real risk to seniors' wellbeing and happiness, even before COVID," Mr Gallagher said.
IRT is considering options to make telepresence robots available for its home care clients, he said.
Main image: David Robson with the telepresence robot.
Comment on the story below. Follow Australian Ageing Agenda on Facebook, Twitter and LinkedIn, sign up to our twice-weekly newsletter and subscribe to AAA magazine for the complete aged care picture.