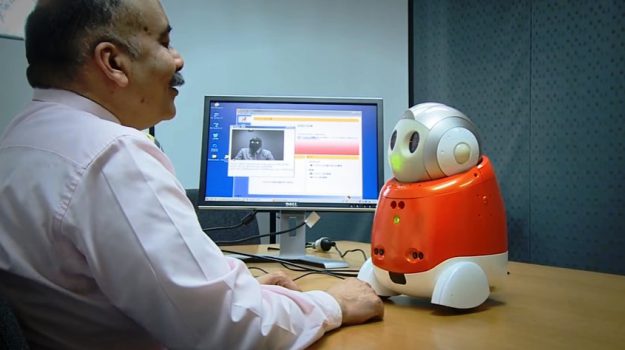 The social robot Matilda can be used to effectively engage aged care residents living with dementia, according to the results of an Australian trial.
Significantly, the study also found that the residents largely enjoyed their interactions with Matilda, with just 2 per cent reporting concern with the robot's presence.
Researchers at La Trobe University measured levels of engagement and acceptability of the robot among 115 residents living in four residential aged care facilities from 2010 to 2013.
The findings have been published in the International Journal of Human–Computer Interaction.
Matilda was jointly developed by NEC Japan and the La Trobe's Research Centre for Computers, Communication and Social Innovation.
The robot, which recognises human voices and faces and detects emotions, can dance, play music and call out Bingo numbers or cards.
Matilda can also remind people living with dementia about the daily schedule and tell them the news and weather. The robot is also capable of making phone calls using Skype.
The researchers noted that engagement in people with dementia is associated with decreased restless behaviour and reduced use of psychotropic medications.
Yet a lack of engagement is common among residents living with dementia in residential care settings, they said.
The trial of Matilda, by researchers Rajiv Khosla, Khanh Nguyen and Mei-Tai Chu, found there was significant improvements in "emotional engagement, visual engagement and behavioural engagement" among the residents in the four facilities.
Significantly, most residents reported they enjoyed interacting with the robot. Just 2 per cent felt concerned with the presence of Matilda, the study found.
Almost 90 per cent of respondents said they felt comfortable with Matilda dancing and 75 per cent felt relaxed talking with the robot. Some 60 per cent reported that Matilda could improve their daily life, while 88 per cent said that the robot made them feel better.
"The results implicate that by socially engaging older people with meaningful activities provided and [mediated] by Matilda, we are able to break technology barriers and encourage acceptance of Matilda amongst the older residents," the researchers said.
The research team said their findings suggest that social robots like Matilda may be useful in aged and dementia care as a supplement to engage residents in meaningful social activities and group therapy services like Bingo games, singing and dancing.
Want to have your say on this story? Comment below. Send us your news and tip-offs to editorial@australianageingagenda.com.au 
Subscribe to Australian Ageing Agenda magazine