A new robotic telepresence platform for telehealth and telecare in the home was the highlight of cutting-edge technology demonstrated at the Australian Telehealth Conference, which got underway in Sydney yesterday.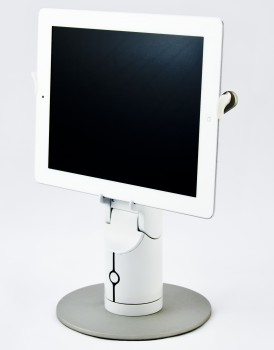 At HISA's annual event, which drew 216 delegates on Thursday, Revolve Robotics CEO Marcus Rosenthal introduced the Kubi platform via a remote presentation from San Francisco.
The presentation included a mock three-way video telehealth consultation between Mr Rosenthal, his colleague Jeff Goldsmith, also in the US, and HISA's "doctor" onsite at the conference.
Kubi combines the video-conferencing features of a tablet with a robotic cradle with pan and tilt capability that holds the tablet. It is then controlled by the remote video-conferencing participant who can look around and actively engage with the people they are calling.
Speaking to Australian Ageing Agenda ahead of his presentation, Mr Rosenthal said Kubi gave caregivers remote access to clients at anytime and was more powerful than fixed-camera technology.
"If you had a fixed camera, if they can't hear you or they have fallen over or passed out you wouldn't know. They might be laying on the floor five feet to the left of you and you would not know. This way, by having that full control, you can turn over to them," Mr Rosenthal told AAA.
Kubi can be set to auto-answer which means the client does not have to do anything for the communication to begin, unlike Facetime or a Skype call, for example.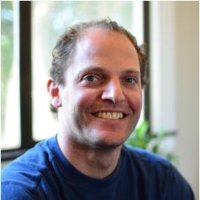 The value of Kubi increased the more places a caregiver or provider could log into, he said. "If I am a home care giver and I can log into four different locations in one person's home, five in another, six in another, then I can really have an effective presence there," he said.
Although the network connection at the conference caused some distortion in the telehealth demonstration, delegates were shown how Kubi could be used to look for then treat the client. Similarly, Mr Rosenthal interacted with delegates by turning the Kubi on a table in the conference room in the direction of those talking or asking questions.
Kubi is controlled using the mouse to centre the view, the sliders on the screen to pan up and down or side to side, or the arrow keys on the keyboard, which are time sensitive and will result in a small or large motion depending on how long you hold the key.
In addition to home care, Mr Rosenthal said they are also seeing Kubi implemented in the hospital and residential care settings, particularly for night rounds.
"If the person making the night rounds has an issue and they want to talk with their doctor, or specialist they can ask Dr Jones to log into Mary's Kubi. You can provide much more immediate care then might have been possible before."
Technology features
On the tech side, Kubi runs WebRTC and would work on Android devices or via a browser on any laptop, PC or Mac, but required a free app to run from an iPad.
Mr Rosenthal said Revolve Robotics had developed Kubi Video, which was all-in-one video conferencing, but there was also an application that allowed users to run Facetime, Skype, WebEx, GoToMeeting and any other application as well.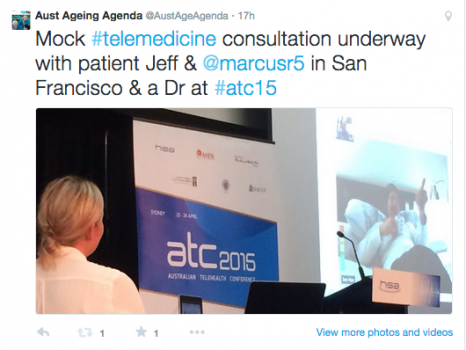 On the hardware side, the Kubi platform had a conformable tablet mount that fitted any tablet in portrait or landscape — there was also a secure mount available for public locations — and a standard tripod mount base, which could be mounted on to carts, for example.
The robotic stand had a four-hour battery life but could run or be charged through the Mini-USB port.
Mr Rosenthal said it was the software that made it complete. A registered user could create a list of all the different Kubis they had access to, to use, administer or control the security of, including set times that a client could be contacted by health professionals or family, he said.
The participant calling in did not need any special equipment or application, but would need a webcam to have a two-way video conversation and an adequate internet connection.
"It is about the same as what you need for making a Skype or FaceTime call. It will work on 4G or Wi-Fi. To coordinate with both ends having special devices is difficult but making it so they can call in from anything makes it much easier and often people are on the go and want to log in from a phone or a tablet."
Several delegates expressed concern over the speed of the internet connection required to use Kubi. Mr Rosenthal said Kubi was set for 2Mbps up and down but could be set as low as 100kbps and to prioritise the audio component.
The Kubi platform costs US$599 in the US and free apps were available from app stores for iOS, android and Windows devices. Mr Rosenthal said they were in the process of setting up distributors in Australia.
AAA reporter Natasha Egan will continue tweeting from day two of the conference on Friday. Follow the action at @AustAgeAgenda