There is potential for intelligent assistive robotics in aged care that harness the power of the mind, says an Australian inventor who is developing robots to communicate with residents.
Dr Jordan Nguyen, a 33-year-old Vietnamese-Australian biomedical engineer and inventor, whose achievements include creating a mind-controlled wheelchair, is turning his attention to aged care.
He will discuss technological innovations in aged care at next month's Information Technology in Aged Care (ITAC) Conference, including the potential for intelligent assistive robotics to harness the power of the mind and human biological signals to control technology.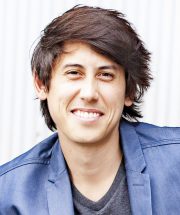 Dr Nguyen said he was excited about developing robots to work in aged care as direct communicators with residents.
"The robots of the future will be designed to respond to the resident's verbal and physical behaviour and help maintain and improve their cognitive awareness, building trust and calmness when staff or family aren't there," Dr Nguyen told Australian Ageing Agenda.
"They can capture and store information about a person who has dementia and whose memory has gone, so that the robot can use this information to converse with the resident," he said.
"A robot won't mind if it has had the same conversation five times in the last five minutes, or five visits."
Dr Nguyen's thoughts on technology in residential aged care are informed by his current work and also his family experiences.
His father Hung Nguyen is director of the Centre for Health Technologies at the University of Technology Sydney and his great grandmother, who lived to 98, was in residential aged care where Jordan was a regular visitor to her in three different homes.
He said while technology in aged care was a "little bit slow moving" and technologies seen overseas were yet to reach Australia, the situation would improve.
"Just as more of our own homes are integrated with technology, so too aged care facilities of tomorrow will look quite different," Dr Nguyen said.
He sees technological sensors and aids to living, such as fall detectors, coming into their own in aged care but said they couldn't be too intrusive.
"You can't force new technology onto older generations. Wearable technology such as buttons to press for a fall, even when designed as a wearable, don't get used unless the wearer is familiar with it," Dr Nguyen said.
"It's going to be more effective to develop a suite of products to put into a home or aged care with intelligent sensors connecting to an enterprise cloud, with secure servers that can recognise if there are anomalies and alert someone to respond."
The ITAC conference will take place on 21-22 November on the Gold Coast.
Australian Ageing Agenda is a media partner for ITAC.