The Australian Medical Association has called on the Commonwealth Government to urgently improve access to fast and reliable internet in rural, regional and remote Australia.
Without access to affordable and reliable high-speed broadband, health services in those areas could fall further behind its city counterparts, the peak doctors group said yesterday as it released its position statement Better Access to High Speed Broadband for Rural and Remote Health Care.
AMA vice president Dr Tony Bartone said technology had the potential to bridge accessibility gaps and deliver better health outcomes at lower cost outside major cities and towns through telemedicine and e-health.
"However, many regional and remote areas have very poor internet connections, with relatively small download allowances, and at a much higher cost and slower speed than the services available in our cities," Mr Bartone said.
"The government must take action to ensure that all Australians have access to reliable, high speed broadband, and the health care services it can enable."
The AMA's position statement calls on the Commonwealth to adopt the recommendations of the 2015 Regional Telecommunications Review to develop a new consumer voice and data communication standard and establish a fund to underwrite investment in loss-making yet essential infrastructure and services in regional Australia.
Developing measures to prioritise broadband capacity for hospitals and medical practices through changes to data allowance quotas and creating universal, unmetered online access to government, hospital and health services for people in rural and remote areas, are among other measures the AMA is calling for.
New national online allied health initiative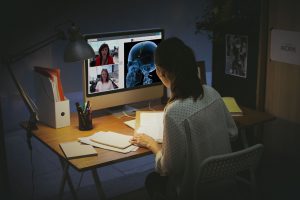 Meanwhile, a new initiative was launched this week that could enable seniors living in regional, rural and remote areas to access allied health services through telehealth.
A partnership between CSIRO Data61 start-up Coviu and regional allied health network Health Team Australia (HTA) will connect up to 20,000 patients with online healthcare professionals.
Starting in November last year, Coviu's real-time communication online video platform is being rolled out to HTA customers across Australia to extend existing health services with professionals such as exercise physiologists, dieticians, psychologists, mental health nurses and occupational therapists.
The new online service will be offered to patients via a range of partners across Australia, according to HTA.
YMCA in Victoria, NSW and the ACT has begun delivering these services to metropolitan communities and is now extending its health plan and coaching services to those without access to a local YMCA.
HTA spokesperson Andrew Mahony said Coviu enabled them to provide individuals and organisations in rural and remote areas with evidence-based support and on-demand access to allied health experts and allowed health professionals to directly prescribe remote patients a meaningful and relevant health plan.
"Coviu gives people the opportunity to stay in their community for longer as they age and continue to play a meaningful role in the community," Mr Mahony said.
Want to have your say on this story? Comment below. Send us your news and tip-offs to editorial@australianageingagenda.com.au 
Subscribe to Australian Ageing Agenda magazine