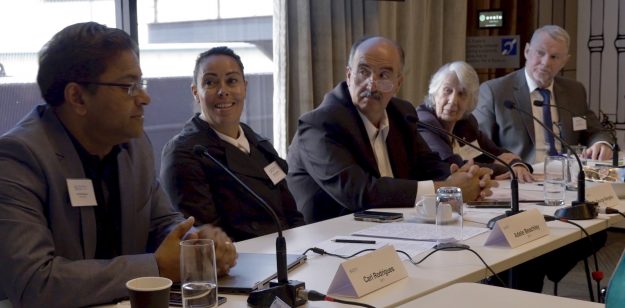 Aged care residents need access to technology that enhances their quality of life, says the head of the national peak body for seniors and technology.  
Technology is already making an enormous difference to the aged care industry but providers should think about how it can be further used to "add life to years of older Australians" in care, says Nan Bosler, president of the Australian Seniors Computer Clubs Association.
"Technology can open the door to an incredible world to those of us who want to age in place while keeping in touch with the world around us," Ms Bosler said.
"We must ensure that technology has a positive impact on those who need care in their ageing years," Ms Bosler told a forum on technology and aged care hosted by mobility management provider SOTI on Wednesday.
Aged care should make use of technology that helps residents manage their lives and respond to their needs because "all seniors no matter what stage they are at want options," she said.
"We want people to be able to stay connected to their family and linked to their community so they are enjoying life."
Industry representative Dr George Margelis said that aged care facilities needed a robust Wi-Fi network and he reiterated the need to provide options to residents.
Mobile connected devices on the rise
Rodney Gedda from technology research organisation Telsyte said the increasing proliferation of mobile connected devices would impact the aged care industry.
Australian households on average have 14 connected devices today, which is predicted to increase to 30 by 2012, according to Telsyte research published in May.
Mr Gedda said smart lifestyle devices, which included aged care and monitoring devices, were on the rise.
They make up 22 per cent of at-home devices today but will comprise 40 per cent by 2021, and generate a lot of sought after data, he said.
"The future of aged care, like healthcare, is all about analytics and having access to the best data, and making sure that the processes and systems you have in place are meaningful and helping people."
As organisations transition from paper-based processes to mobile and connected devices and digital aged care, security must be top of mind, he said.
"We will have more access to data but we need to manage it in a prudent way. It is important for organisations to have a multi-platform strategy and not be looking at one particular device."
Telsyte's research found there are 131 million connected devices in Australian homes today, which is estimated to rise to 311 million by 2021. Currently the two most popular smart devices in the home are for energy and security but by 2021 they will be for lifestyle and energy, the research said.
Comment below to have your say on this story
Send us your news and tip-offs to editorial@australianageingagenda.com.au 
Subscribe to Australian Ageing Agenda magazine and sign up to the AAA newsletter