A 10-year aged care roadmap will be launched next year and service providers and technology vendors can help shape the development of a framework for further reform, a senior departmental bureaucrat has said.
At the recent Information Technology in Aged Care conference, Fiona Buffinton, group manager of access quality and compliance group at the Department of Social Services, said in acknowledgement that five years was not long-term enough, government would deliver a 10-year vision for aged care in 2016 including a key framework.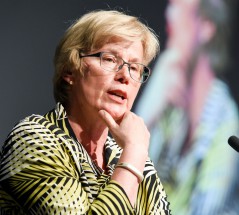 She also said that with aged care moving back into health, getting the My Aged Care client record linked to the national eHealth record system had been moved up her priority list.
Ms Buffinton, who along with Aged Care Industry IT Company (ACIITC) chair Graeme Prior co-chairs a committee that brings together the interests of the ACIITC and government, called on providers and vendors to influence the development of the forthcoming framework through their ongoing collaboration.
"We are limited as policy writers and developers and funders by what we can imagine and what we are told to imagine through these collaborative projects and co-design," Ms Buffinton told delegates.
"That is why we are going to be working in partnership with the ACIITC now that we have had this great collaboration moving up to 1 July with My Aged Care in working with the [ACIITC] to start developing this so-called online marketplace."
She said the case had been made for an online aged care marketplace but that she was concerned some people in the industry were waiting for government to take the lead because it had always led in the past.
"I want to keep reinforcing that we see as a key funder that we will play a key role in this but that may be a diminishing role over time because we are confident in terms of the marketplace," Ms Buffinton said.
She said critical mass was needed to attract users and while acknowledging ongoing connectivity issues and requirements, she added that My Aged Care was a good place to start.
"We believe that My Aged Care is a good starting point to begin this marketplace because we have very large volumes of transactions. Our website has about 150,000 visitors each month. By the end of November we are going to have more than 100,000 consumers registered for a client record," Ms Buffinton said.
In addition to the service and technical innovation required from within the sector, Ms Buffinton said government was pushing the department on regulation and policy innovation.
That involved looking at reducing regulatory burden, identifying the core quality and accreditation required by government and the likely future convergence across the health, aged care and disability systems, she said.
It also involved government looking at giving up its monopoly on policy control in favour of a more collaborative and market approach, Ms Buffinton told delegates.
She said that in this fast moving aged care world, all stakeholders needed to be able to adapt quickly.
"I exhort you whether you a service provider… [or] vendor, I have to be agile and you have to be agile," Ms Buffinton told delegates.
Photo: eventphotography.com
Sign up to Technology Review's weekly e-newsletter for news and analysis, as well as coverage of the latest products, resources and events. You can also follow Technology Review on Twitter. Send your company news, tip-offs and news on tech resources, products and events to negan@intermedia.com.au.