A growing number of tech-savvy seniors is using the internet to reduce the impact of social isolation, according to a survey commissioned by nbn, the company building the national broadband network.
In the national survey of 800 participants aged 55 and over, three in five reported that the internet made them feel more connected (62 per cent) while two in five said it helped them overcome feelings of loneliness and social isolation (41 per cent).
The majority use the internet to connect with their children (76 per cent), grandchildren (59 per cent) and other family members (72 per cent) with four in five in these cohorts doing so weekly (84 per cent), the survey developed by Colmar Brunton in June 2015 found.
It is the "rise of the GranTechie," according to nbn, which also found that seniors showed their ability to adapt to the technology of those they were communicating with.
The survey found that more than one-third of seniors used high-bandwidth video calling applications such as FaceTime or Skype to stay in-touch with their grandchildren (35 per cent), while more than half use Facebook (61 per cent) and email (90 per cent) to connect with their children.
Addressing loneliness
The new figures from nbn align with the experiences of leading aged services that are using the internet as a means of addressing loneliness among older Australians.
Research commissioned by not-for-profit aged care provider The Whiddon Group in 2015 found that 45 per cent of Australians aged 65 and over – 1.4 million people – experienced loneliness compared to 10 per cent of all Australians.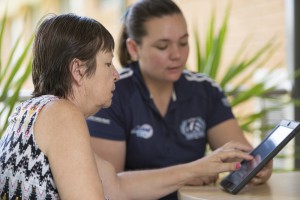 "Technology has a great role to play in reducing social isolation and loneliness, particularly where families are separated by distance and where older people may be living in remote areas," Karn Nelson, executive general manager of strategic policy and research at Whiddon, told Technology Review.
"We see it playing a larger and important supporting role in aged care services."
Whiddon uses technology in programs aimed at addressing loneliness and isolation in their residential facilities and also to support people living at home and clients at day respite services, she said.
To help uptake, Ms Nelson said it was important there were opportunities for older people to develop the skills they need to use the technology. She said:
"Through experience, we know that many older people are not confident in using iPads and computers, things that we often take for granted."
Australian Seniors Computer Clubs Association, the national peak body for seniors and technology, is dedicated to assisting clubs educate seniors in using computer technology to enrich their lives and make them more self-reliant.
President Nan Bosler said they were increasingly seeing older Australians embracing social media and video calling applications to be present for special family milestones, such as a grandchild's first steps or a relative's birthday.
"I have no doubt that with the ability to access fast and reliable internet services… this new wave of 'GranTechies' will only continue to increase their adoption of technology to connect more often and more deeply with family and friends."
The nbn reported in June that more than a million Australians homes and businesses now have access to the national broadband network. It has a target to provide access to fast broadband for all Australians by 2020.
Sign up to Technology Review's weekly e-newsletter for news and analysis, as well as coverage of the latest products, resources and events. You can also follow Technology Review on Twitter.