A world-leading advisor on the use of smart assistive technology in home care provision will demonstrate how to incorporate new models of care services through the use of emerging and available technologies at an upcoming learning day.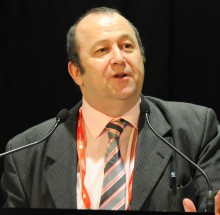 Dr Kevin Doughty, who is director of the Center for Home Usable Technologies at the Universities of Newcastle, Coventry and York, is running a one-day interactive workshop hosted by Community Resourcing in Brisbane next month.
Dr Doughty, who is also presenting at the joint ACSA IAHSA international conference in Perth the week before, will draw on international best practice in his demonstration of implementing smart assistive technologies (SATs).
Topics covered in the workshop include:
SAT for a person-centred approach to assessment and service provision
business transformation through the use of SAT
SAT and the impact on carers
practical solutions to SAT equipment installation and maintenance
using smart assisted living support activities (SALSA) to improve choices and outcomes for people with disabilities
supporting consumer directed care with improved assessments and prescriptions of SAT
SAT and positioning for NDIS
an action plan for organisations to assist with embedding SAT into service delivery
The event is supported by the Queensland Government through the Department of Communities, Child Safety and Disability Services.
Coinciding with the workshop, Community Resourcing will formally launch a Community Care Smart Assistive Technology Collaborative Platform and explain its function.
The workshop takes place on Tuesday 8 September at The Royal National Agricultural and Industrial Association of Queensland (RNA), Brisbane Showgrounds. Go to  communityresourcing.com.au for more information, and purchase tickets, which cost $50 each, here.
Sign up to Technology Review's weekly e-newsletter for news and analysis, as well as coverage of the latest products, resources and events. You can also follow Technology Review on Twitter.
Send your company news, tip-offs and news on tech resources, products and events to negan@intermedia.com.au.