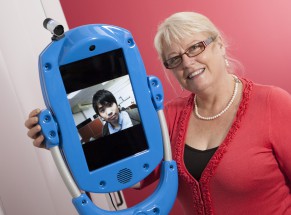 Researchers from Griffith University are looking for people with dementia and a family member to volunteer for a new trial that will gather their views and expectations of telepresence robots in dementia care.
Known as the ACCEPTANCE Project, the study also involves developing, testing and promoting new approaches to evaluating robots in research and practice.
The team of researchers from the Menzies Health Institute Queensland at Griffith University is undertaking the trial with funding from the Dementia Collaborative Research Centre – Carers and Consumers.
Lead investigator Professor Wendy Moyle said the telepresence technology enabled a user to look into another space through a two-way camera while controlling the viewing direction and movement of the robot.
"We are really interested in being able to understand people's perceptions of the robot, which we believe needs some changes to it," Professor Moyle told Technology Review.
"We are trying to get from end users what they would like the robot to look like and how they would like it to move. We are also looking at people's perceptions of how close the robot should be."
Professor Moyle said she was interested in the participants' views on the size of the robot and its display screen, any appearance changes they might like, as well as the audio visual opportunities related to movement.
This study builds on her extensive work with telepresence and other social robots, such as Paro the harpseal (see video below).
Volunteers sought
The study team is now recruiting community-dwelling people with any stage of dementia to test and evaluate the robot together with a member of their family at Professor Moyle's social robotic laboratory at Griffith University.
The laboratory is built like a home with beds, chairs and obstacles and provides a fun experience for participants, she said.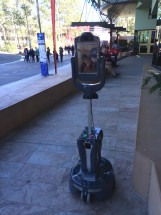 The researchers will train the family member in how to move the robot, determine if they can move it with the current base and investigate what else might help them manoeuvre around obstacles in the home, she said.
Professor Moyle said they were particularly interested in people who had cognitive impairment as they wanted to see whether they would use this technology in the home, what they would use it for and how family members might use it to communicate.
The second objective of the project was to develop, enhance and test state-of-the-art analysis tools for robot-related research and practice.
"We have been developing a number of instruments and different ways to look at the interaction between robots with different people with dementia and also families," Professor Moyle said.
She said while their work often looked at people's emotional responses, such as their facial expressions, they had learnt over time that the whole of body was of interest.
"What are the feet doing? What are hands doing? How are they interacting? It is work that has not been done before," Professor Moyle said.
Participating in the trial involved a single two-hour visit to the Brisbane laboratory. Those involved would receive free parking and a $50 voucher to assist with travel-related expenses.
To volunteer in the study or seek more information, contact Professor Wendy Moyle at w.moyle@griffith.edu.au or by calling 07 3735 5526 or 0478 305 356.
This video shows some of Professor Moyle's previous work with social robots at Griffith University:
Sign up to Technology Review's weekly e-newsletter for news and analysis, as well as coverage of the latest products, resources and events. You can also follow Technology Review on Twitter. Send your company news, tip-offs and news on tech resources, products and events to negan@intermedia.com.au.