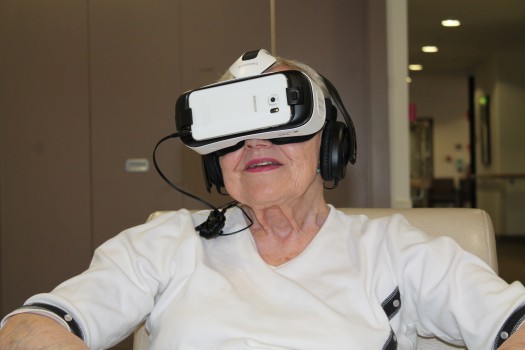 With devices becoming more affordable, the use of virtual reality as a therapeutic tool in aged care is increasing, and many developers are working to produce content specifically for residents, reports Darragh O'Keeffe.
Roy was one of the more isolated residents; he was often confused, tended to sleep a lot, and often became agitated in the evenings.
But since Roy has been participating in a virtual reality lifestyle program at Mercy Health Shepparton, the aged care facility where he lives, staff report that his agitation levels have decreased and his engagement with others has improved.
As an email from his daughter to the facility's management attests: "… I noticed quite a difference; he was out in one of the lounge rooms singing, he also spoke to me and seemed more engaged and he was asking questions. We even had a few laughs and he appeared to be much happier than previous visits. As far as I can see the program is already making a difference."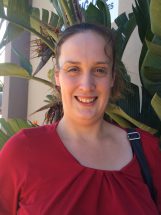 Karren Gooding, Mercy Health's lifestyle manager, says that from the first time Roy participated in the virtual reality experience, staff noticed an improvement in his behaviour.
"Due to his dementia, he tends to shake a lot, and his shaking actually stopped while he was completely immersed in the program," she tells Australian Ageing Agenda.
In fact, the results of Mercy Health's pilot of virtual reality at its Shepparton facility have been so encouraging the provider is now looking to rollout the lifestyle program to all of its 22 facilities.
The glasses being used are from Aged Care Virtual Reality, a business launched in mid-2015 by Daniel Gray, a diversional therapist with 15 years' experience in aged care.
"I have been looking at VR technology for quite a while but it hasn't been good enough until now," Mr Gray says.
It is now more affordable, light-weight, portable and the software is good enough quality to capture footage of real places, he says.
As part of Mercy's virtual reality program, residents get to experience natural and man-made wonders of the world, through the use of visual and audio content designed specifically for seniors and people with dementia.
As the use of virtual reality was fairly new to aged care, Mercy was keen to run a trial and measure the impacts. All participating residents are living with dementia; some receive it four days a week, some twice a week and others once a week, so it can be determined whether more frequent use is associated with greater benefits, says Gooding.
A typical session involves five to six minutes of experiencing the virtual reality program, which is used by staff as a prompt for a follow-up conversation. "Staff engage with the resident after watching the program, to tap into their long-term memory and create that reminiscence and conversation."
Roy was initially engaging in conversation for about five minutes after a virtual reality session, but now he's talking with staff for up to 45 minutes, says Gooding.
The virtual reality program that a resident experiences is chosen based on their personal interests and experiences, which may be scenes from their country of birth, places they've visited, or hobbies they enjoy, says Gooding.
Asked about any unexpected negative outcomes from the use of the virtual reality lifestyle program, Gooding says there have been none. Of the 200 residents who have participated in the program, only three declined to continue – and none of those were agitated by the program, she adds.
The goal now is to secure two pairs of the virtual reality glasses for each of the provider's 22 facilities. Mercy has been fundraising toward that aim since last year, and currently it has acquired 20 pairs of the glasses, which are being shared among the group so all facilities can have access.
Gooding says staff training was an important component of the trial and subsequent rollout of the virtual reality lifestyle program. All carers and managers were informed about the technology and therefore had the same opportunity to engage with residents about their new-found experiences and memories.
Likewise, residents' families and friends have been provided with information on the technology, as well as an opportunity to try the devices for themselves, says Gooding.
"We've also encouraged them to be there when their loved ones are using it, so they can be involved as much as possible," she says. Families have also provided information about the resident's past experiences to help staff source the most appropriate programs and to assist with the discussion afterwards.
Proliferation of VR devices
According to Ben Sheehan, managing director of Altish, a Brisbane-based VR developer, many brand-name consumer electronics manufacturers – including Samsung, HTC, PlayStation, Google and Microsoft – will be shipping consumer-ready virtual reality hardware this year.
"This hardware will range from US$100 for a portable device, powered by a smartphone for a seated experience, right through to room-scale devices that allow the user to move around in virtual reality and receive physical feedback from the environment via haptic feedback suits and gloves," Sheehan tells AAA.
He says large systems will remain in hospital and clinical settings this year because of technical and budget constraints, but that this will change over time. "The first microwave ovens cost over $30,000 in today's terms but they are ubiquitous in 2016," he points out.
Sheehan and his team are currently developing a suite of virtual reality simulations for the aged care sector, specifically in key areas of dementia, palliative care and training scenarios for providers. But he says residents may also benefit from other simulations that are designed to assist users with depression, anxiety or just relaxation.
"While virtual reality will be commercially driven by the entertainment industry in 2016, we are committed to delivering accessible and immersive experiences in the aged care space. We have seen virtual reality used for powerful healing experiences firsthand and research is proving its efficacy," says Sheehan.
Altish plans to make its virtual reality simulations work across all platforms, he says. "We want to reach out and help everyone regardless of brand preference and budget. Software will be available for download via all commercial channels such as Google Store, Apple Store, Oculus Share or direct from our website."
He says that simulations are currently in development and involve international collaborations. "Finding and connecting with the world's best developers is so important," says Sheehan, who had just returned from meetings in Thailand and was preparing to visit developers in France.
Altish will have prototypes and minimum viable products ready for user acceptance testing in late 2016, he says, and Sheehan is keen to hear from aged care providers that are interested in being part of user testing and providing feedback.
Sheehan, who has a background in marketing and business prior to founding Altish, became interested in the application of virtual reality after his father was diagnosed with cancer.
"I immediately resigned from corporate life and was thrust into a full time, primary care giver role. As Dad's illness progressed, he lost mobility and independence, which was really frustrating for him as he was a strong, hardworking man."
Sheehan sought to ease his feather's anxiety and boredom, and provide a temporary reprieve from the emotions associated with a terminal diagnosis.
"I bought a Samsung Gear set, run by smartphone, and that day I had Dad scuba diving, having a narrated tour of the cosmos and even relaxing on a beach. He loved it.
"I even mounted a special 360-degree video camera – using seven GoPro's simultaneously filming in all directions – to my motorcycle helmet, so that Dad could ride along with me on a motorcycle we had built together before his illness."
Having witnessed the healing power of virtual reality firsthand, Sheehan says he began assembling the hardware, people and partners to establish Altish.
"Everyone deserves the radical freedom that virtual reality represents. You want to walk again? You want to fly? We could recreate your childhood home. You could renew your vows with your partner or finally stand beneath the Eiffel Tower. Virtual reality is about the freedom to redefine one's reality in any way they see fit," he says.
'A growth area'
Like Sheehan, it was a personal experience that prompted Beau Barnett's interest in the use of virtual reality in health and aged care.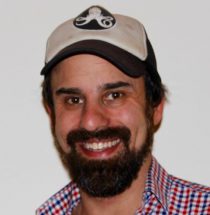 Barnett, the co-founder and CEO of video game creator Oceanic Studios, decided to enter the health arena after his grandfather went into hospice care. "He couldn't go anywhere, he was in the facility getting more and more ill," Barnett tells AAA.
While Barnett was keen to use virtual reality with his grandfather, so he could experience scenes from England where his ancestors came from, the units at that time were tethered and portability was an issue.
"We didn't get the chance to do that before he passed away," he says.
Subsequently a meeting with TLC Aged Care further nurtured his interest in applying virtual reality devices to the aged care environment. "We ran some pilot programs with TLC and now we're up to our sixth serviced room for them," says Barnett.
The provider has appointed special rooms in its facilities for the virtual reality program, with the use of recliners and Oculus headsets.
"The experience gives residents some respite from the day to day, it brightens up their day. It puts [residents] in a hot air balloon over the Alps, or into a forest we've designed, a gondola in Venice, or a tropical beach scene," says Barnett.
The programs have been designed to require minimal input from the residents, he says. "It's all scripted, they just sit down and it takes them through without having to touch any buttons or have a controller in their hand. We're very aware that some have limited mobility, and they have not grown up with video game systems and aren't used to using controllers."
Oceanic Studios can use off-the-shelf virtual reality programs for its aged care clients, but more importantly, it is working with a range of consumers and groups in the development of aged care specific content, says director Nick Strong.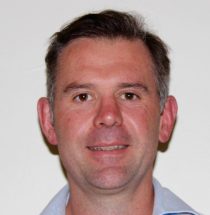 "We're talking to a number of groups that are involved in the commercialisation of technology and software across autism spectrum, developmental delay disorders and Alzheimer's disease," Strong tells AAA.
Oceanic has produced a mobile "purpose built kiosk" that can be placed into aged care facilities, running from its own computer, that uses an Oculus headset for a full immersive experience, he says.
"Each of those machines can be operated by the facility and content can be constantly delivered, managed and updated with our platform," he says.
Asked about cost, Strong says its kiosk will be priced at around $5,100 per unit, with an additional monthly cost for continual update of software and to funnel content, whether off the shelf or custom built.
"That's fully managed," adds Barnett, "they get statistics on which experiences residents are using, what might be more popular than others… if a unit is having a problem it's fixed."
"We're really focusing on the purpose built content area," says Strong. "We believe that is the real growth area."
Want to have your say on this story? Comment below. Send us your news and tip-offs to editorial@australianageingagenda.com.au 
Subscribe to Australian Ageing Agenda magazine