A trial of a world-first sensor technology platform in residential aged care to prevent falls was among grant-winning projects featured at a recent industry conference.
At Aged Care Research and Industry Innovation Australia's conference last week, HSC Technology Group consulting clinical research director Dr Maggie Haertsch gave the audience a glimpse into the project known as BEST CARE – which stands for Building Excellence (in) Sensor Technology: Clinical Assessment Response Experience.
HSC Technology Group, which provides a suite of technology-enabled care solutions to the aged and disability sectors – and partners aged care provider Whiddon, consultancy Anchor Excellence and Australia's national science agency CSIRO – received an ARIIA grant worth nearly $400,000 in April. The project involves a feasibility study of a data analytics platform that combines sensor technology to prevent falls in residential aged care.
"We're doing something I think is pretty bold, and that is to really look at how we can be more predictive around preventing falls in residential aged care," Dr Haertsch told the conference of more than 350 delegates.
That's important because falls are a leading cause of premature death in residential aged care and primarily preventable, she said.
HSC Technology's Talius Smart Care Platform brings data from the Internet of Things into a single dashboard to provide a view of residents in aged care homes. The platform – which incorporates an algorithm developed and tested in home care settings by CSIRO as part of the smarter safer homes project (findings of the trial here) – is sensor agnostic and can link any number of sensors autonomously collecting data into its platform.
Dr Haertsch showed the audience the sensors being used in the study, which includes a falls radar, a sleep sensor that sits under a bed, a vibration sensor that sits near a toilet, a humidity sensor and staff cards and wearables, such as distress or call bell pendants that have real-time locating systems (RTLs).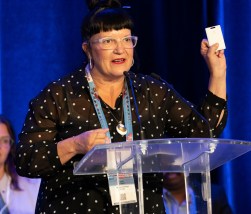 The study will test the feasibility and acceptability of this platform and the IoTs to provide alerts for staff to provide assistance as well as look at the pattern of care, early deterioration and changes in how an aged care resident is living to be able to provide them with support.
It's about moving from reactive to proactive and data-informed care that supports business as usual, and integrated within current call bell systems, she said.
"It's autonomous data, no cameras. It goes in new and old buildings and the building we're putting it into with our partner Whiddon is an older building." Importantly there is also an action layer to the reporting so staff know who, when and how to provide support, she said.
Dr Haertsch said each of the sensors related to a falls prevention strategy, addressing common themes such as:
where a person has a fall and the call bell is not within reach
unassisted or unsupported movement from one place to another
a mobility aid not being within reach
social isolation.
"Using these kinds of sensors, we can track and provide support for the staff and also understand the resident experience," she said.
Almost 1,000 sensors to be installed at Whiddon
In this study, the six different types of sensors will see a total of 967 sensors installed throughout Whiddon Glenfield. The organisation is excited to introduce the platform and sensors, said Whiddon executive general manager technology and property Regan Stathers.
"The Talius platform provides us with information that informs care and up-to-date information on the residents' changing needs," Mr Stathers said at the time of the grant announcement. "This technology is like a smart sensor messaging system and we are eager to better understand the experience of our residents and staff using Talius."
The project has made ethics submissions and is about to put the devices into the aged care service, Dr Haertsch told the conference of more than 350 delegates.
"We look forward to giving you updates and help the industry to better provide support for people when they need it using this kind of technology enablement."
Main image: Dr Maggie Haertsch telling and showing ARIIA conference delegates about the technology in the study.
Comment on the story below. Follow Australian Ageing Agenda on Facebook, Twitter and LinkedIn, sign up to our twice-weekly newsletter and subscribe to AAA magazine for the complete aged care picture.