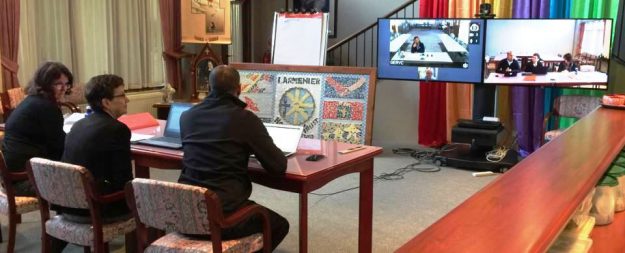 CASE STUDY: A not-for-profit aged care provider with six residential facilities across Australia and New Zealand says it expects to reduce travel costs by 30 per cent after adopting a new videoconferencing solution.
Nazareth Aged Care, a provider of assisted living support and specialised dementia care, says that apart from the reduced travel costs it is seeing greater real-time collaboration between staff at all facilities.
"Because we are so geographically widespread, getting together is a costly thing," said Warren Leo, corporate services manager at Nazareth Aged Care.
Management had to travel every few months for departmental workshops while executives had to journey interstate on an almost monthly basis. Overall the provider said it runs 25 meetings each month which require another facility's participation.
The organisation was already using conferencing technology but said the system was complex, unreliable and of poor quality.
"It was hard to gauge staff engagement, and the quality of the audio was poor. We were unable to see colleagues' reactions to various issues and there would often be moments of silence where nothing was said, to the detriment of our discussions," Mr Leo told Australian Ageing Agenda.
Discussing the rollout of the BlueJeans videoconferencing technology, Mr Leo said the hardware implementation was straightforward but the rollout of training was a greater challenge.
"We determined a video conferencing champion for each site, who staff utilised until they were competent. Training and various help guides have also assisted with the implementation of this technology," he said.
The technology has been rolled out to all six aged care facilities.
The provider said it expected its travel costs would be reduce by around 30 per cent.
"However, there has been an immediate increase in organisational efficiency, collaboration, and ease of information sharing," said Mr Leo.
Video meetings had improved inter-facility communication and facilitated wider input into decision making throughout the organisation, he said.
Encouraged by its positive ICT experience, the provider said it is now exploring the introduction of tablet devices to manage medication distribution.
Does your organisation have a story of practice improvement or innovation to share? Get in touch with us: [email protected]