The head of ACFA has advised providers to use ICT to develop services not currently prescribed by government funding and to look for customers outside the aged care market.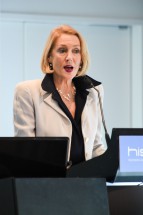 There are opportunities for aged care organisations to leverage technology to provide services that promote positive ageing through connectivity, purpose and fun, according to Aged Care Financing Authority chair Lynda O'Grady.
There is also great opportunity beyond both the current schedule of government-subsidised services and aged care consumers, Ms O'Grady told the aged care informatics stream of the recent Health Informatics Conference in Brisbane.
Ms O'Grady is also an independent director of National Electronic Health Transition Authority and a provider of advisory and consultancy services to clients across a wide range of industries and sectors.
She said ICT was a perfect set of tools to ensure that as people entered the aged care system they had everything they needed for positive ageing – someone to love, something to do, and something to look forward to.
"It is important that there are technologies available through our aged care system, either in home care services or residential facilities, for people to stay connected to their loved ones even though they might not be able to spend time personally with them," Ms O'Grady told Technology Review after her presentation.
"Secondly, that they can have a purposeful existence so they can be accessing information from the internet and remaining interested in a wide range of subjects. [And] most particularly that they have lots of opportunities for having fun. I think that ICT and the devices and applications available provide a great realm of pleasurable activities."
Elsewhere, Ms O'Grady advised providers to develop services not currently prescribed by the funding systems and to look for customers outside the aged care market.
There are about one million people using the aged care system in either home support, home care or residential care, which represents 4 per cent of the total market of people over 65 years of age. There are an additional 4.2 million people aged between 50 and 65 and 3.5 million people over 65 living at home without government subsidised aged care services, she said.
"You don't need to be thinking about just those consumers who are funded by the government. Many of us have the capacity and the demands for lots of other services which are also provided by the aged care sector now… [and] would be happy to purchase or acquire with our own money if you make the services sufficiently interesting and relevant," Ms O'Grady said.
She said there were opportunities for ICT vendors to focus on the three person-centric systems in any aged care organisation – client records, hotel services and regulation.
Ms O'Grady said there would be a change in the sector from manual, tedious duplicated functions to single entry multiple usage reporting and set and forget systems that enable continuous improvement and sharing with consumers, and a shift to outsourced and power-based managed services.
Sign up to Technology Review's weekly e-newsletter for news and analysis, as well as coverage of the latest products, resources and events. You can also follow Technology Review on Twitter.
Send your company news, tip-offs and news on tech resources, products and events to [email protected].
Photo: eventphotography.com