A research project led by the aged care sector's technology peak body has identified high rates of data duplication, the need for standardised terminology and almost 300 unique clinical software vendors in residential aged care.
The report Residential Aged Care Use of Clinical Care Systems produced by the Aged Care Industry Information Technology Council in collaboration with the Australian Digital Health Agency was released on Thursday. It identifies the need for aged care providers to develop comprehensive data-related policies and procedures as they move to implement the royal commission's recommendation for the universal adoption of digital clinical care technology and the My Health Record.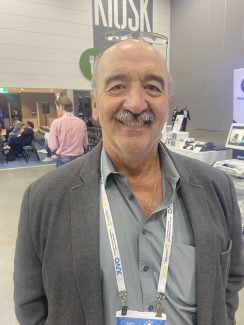 "First of all, the exciting thing about the report is it's the first time we've had a chance to actually look at what software is in place and how it's used end to end," ACIITC chair Dr George Margelis told Australian Ageing Agenda on the sidelines of the Aged Care Transformation stream at Victorian Healthcare Week in Melbourne on Thursday.
"The standout finding is the heterogeneity – the differences between providers in what they're using and how they're using it – the lack of standardisation, not just around data but around processes, and also the fragmentation."
The fragmentation reflects the way the industry has grown so that medication management, prescribing, inventory, payroll and so on are all separate, he said. "Nothing's integrated and that's because they've had to add systems on the fly. There's never been a strategic roadmap saying, 'here's where we are going to go forward'."
Dr Margelis is hopeful the findings will provide an opportunity to identify all the functions needed and integrate the common data across those functions with common terminologies. "The different ways things are described in the industry is frightening. And that's just that massive fragmentation."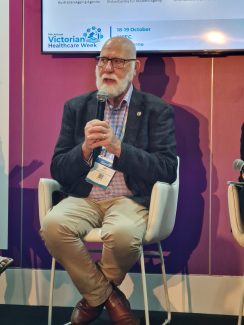 The issue of integration was raised among the aged care transformation discussions on Wednesday by Tanunda Lutheran Homes chief executive officer Lee Martin. He said his organisation used more than 30 systems that did not talk to each other.  
"I don't think we'll ever integrate to one. But we should be able to integrate to a couple of platforms that we can use to solve the problems," Dr Margelis told AAA.
Key report findings
a notable amount of duplication of core clinical information in multiple clinical systems, highlighting the importance of data integration
the absence of consistent terminology across the sector presented challenges in data collection and analysis
287 unique clinical software vendors identified in residential aged care
widespread Wi-Fi connectivity
visiting clinicians have higher access to input, extract, and review data on-site than remotely
clinical software integration with visiting clinicians' software and community pharmacy software varies widely
most organisations reported limited integration with My Health Record, and most did not record data in residents' My Health system
organisations have varying technology investment strategies, with some lacking a specific focus on clinical software
barriers to clinical software adoption include the cost of products, training, upgrading, employee culture, time, resources, and digital literacy
a significant percentage of clinical software systems have been in deployment for five to 10 years, indicating a need for updates and improvements.
Opportunities for providers, vendors
In addition to the challenges, the report outlines opportunities for both aged care providers and software vendors.
"The key message for providers is that there are opportunities for efficiency," Dr Margelis told AAA. "Because of their fragmentation, there's a lot of inefficiency, double entry of data, disparate data and same data being captured in different formats in different systems.
"So by aligning all their datasets into a single domain, they have opportunity to enter once and use many rather than enter many and use many. For providers I think that's probably the biggest benefit. They'll have a unified domain of data, which means they can then start looking at how they utilise that data to improve quality, safety and efficiency," he said.
"There's a real opportunity from the vendors to start looking at how can they provide integrated solutions, rather than sort of just pick a single minute problem, solve that problem, wrap it and deliver it. They need to do something that may require either consolidation or collaboration."
Procurement is not the bread and butter of an aged care provider; they don't have resources, said Dr Margelis. "So you need to simplify that procurement process and part of that may be coming together as a unified solution."
And, going forward, software needs to be an operational expense, he said. "Software and services can and should be part of that operational space. No longer a capital expense."
Australian Ageing Agenda is a media partner of Victorian Healthcare Week
Comment on the story below. Follow Australian Ageing Agenda on Facebook, Twitter and LinkedIn, sign up to our twice-weekly newsletter and subscribe to AAA magazine for the complete aged care picture.