The natural and man-made wonders of the world are now on the travel itineraries of aged care residents from Mercy Health, which is extending a new virtual lifestyle program to all of its facilities following a successful trial.
Residents are transported around the world via a new breed of virtual reality (VR) glasses that contain visual and audio content designed specifically for aged care and people with dementia.
Mercy trialled the glasses with seven residents living with dementia at Mercy Place Parkville with a six-minute helicopter ride over France, Iceland and Africa.
The virtual reality project aims to encourage discussion around reminiscence and conversation among residents and provide users with quality of life, said Karren Gooding, Mercy Health lifestyle manager.
"For residents living with dementia, we can't cure the dementia but we can help to give them a better life and create enjoyment," Ms Gooding told Technology Review.
"The same with high care residents or residents with other conditions; if we can help to tick off things from their bucket list, provide them with enjoyment and give them a reason for getting out of bed each day, it is worth it."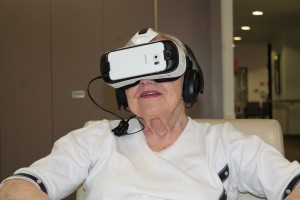 Ms Gooding said they initially wanted to see how residents reacted to having the head piece on. "To our surprise, no one reacted badly to it at all. The feedback from it was amazing," she said.
Specialised content
The glasses are from Aged Care Virtual Reality, a business launched three months ago by Daniel Gray, a diversional therapist with 15 years' experience in aged care.
"I have been looking at VR technology for quite a while but it hasn't been good enough until now," Mr Gray told Technology Review.
It is now more affordable, light-weight, portable and the software is good enough quality to capture footage of real places, he said.
Mr Gray works full-time managing aged care recreation programs for all of Wintringham, where residents have also been trialling the virtual reality programs.
"My original plan was to commission some very therapeutic-based programming but we realised very early on that people often want the experiences; they want to go to New York, Venice and Africa," Mr Gray said.
Aged Care Virtual Reality is working with four film crews around the world to commission video, which complements content that is purchased and comes with the headset, Mr Gray said.
On what makes the content suitable for aged care and dementia, Mr Gray said he chooses calm, panning, endurable but relaxing footage of animals, classic locations anyone could relate to, and a soundtrack people can either relax or relate to.
Based on his background in diversional therapy, Mr Gray said enjoyment or fun should be the primary reason aged care providers should look at incorporating this technology into their lifestyle programs. But it can also provide an opportunity to see new places and tick things off the bucket list, reminisce, stimulate cognitive function and physical activity plus address social isolation, he said.
Mr Gray said he was in talks with university researchers to have the benefits formally measured.
Expanding the program at Mercy
Mercy Health is also planning to carry out further research to measure the impact on resident engagement levels.
In addition to residents with dementia, they plan to use the virtual reality program for residents with high care needs and those experiencing depression as well as younger residents with medical conditions such as multiple sclerosis, Ms Gooding said.
The provider has purchased four machines but would like to have two pairs of glasses for each of its 22 facilities and has started a fundraising campaign to assist with achieving that goal.
Each pair of virtual reality glasses costs $2,300 and includes five programs.
Sign up to Technology Review's weekly e-newsletter for news and analysis, as well as coverage of the latest products, resources and events. You can also follow Technology Review on Twitter. Send your company news, tip-offs and news on tech resources, products and events to negan@intermedia.com.au.