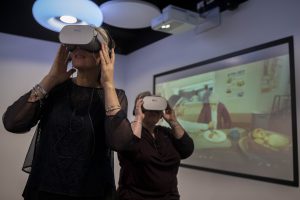 A new virtual reality application is helping aged care workers understand and improve the dining experiences of aged care recipients with dementia. 
The new technology developed by advocacy organisation Dementia Australia and Deakin University allows participants to experience the sights and sounds of mealtimes through the eyes of a person with dementia.
Dementia Australia's Centre for Dementia Learning has incorporated the technology into a workshop titled A day in the life – mealtime experience, which it launched on Tuesday.
Dementia Australia acting CEO Anthony Boffa said it was important to show aged care staff how to improve dining experiences for health and social reasons.
"Unfortunately, because nutrition is a health concern for people living with dementia, it is crucial to educate aged care employees on how they can create an environment that facilitates eating not only for enjoyment but also for better health," Mr Boffa said.
People with dementia should be able to and deserve to have a positive mealtime experience, he said.
"The tastes, aromas, environment and social connections we get to enjoy in our everyday activities should be just as positive and engaging for people living with dementia in an aged care home," Mr Boffa said.
"Dining is a sensory experience that should be celebrated and enjoyed at every stage of life, dementia does not change the desire for an enjoyable meal," he said.
Co-director of Deakin University's Applied Artificial Intelligent Institute Kon Mouzakis said those using the VR application would experience distractions, such as pagers buzzing, clutter of crockery and loud conversations, in the same way people with dementia experience them.
"We want to help all people who work in aged care to understand how all this activity combined presents for a person living with dementia who will be trying to process what's going on around them whilst at the same time wanting to enjoy their meal," Professor Mouzakis said.
Comment below to have your say on this story
Subscribe to Australian Ageing Agenda magazine and sign up to the AAA newsletter