Community aged care providers are being sought to test a mobile software tool that enables care managers to get electronic sign-off for a consumer directed care (CDC) agreement at the initial visit.
The cloud-based program, Care Collaborator, steps the care manager through collecting the client's financial details and creating their care plan, individualised budget and service schedule to generate a home care agreement on the spot.
Funding and services can begin immediately and the information collected can be integrated into a provider's existing client and financial management systems without the need to re-enter it.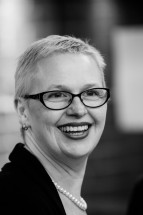 Care Collaborator is set to go live prior to the 1 July transition to CDC.
As part of final testing, its developer, Debra Ward, principal at Wardcon Solutions, is looking for home care operators in the Melbourne metropolitan area to test the software's functionality and provide feedback to assist with any improvements.
"We would provide set up and training for their staff so they could access the system and use it with a select number of their clients to ensure it works the way it is supposed to and provide feedback," Ms Ward told Technology Review.
The trial requires the involvement of home care program staff including the manager, case manager and administrator, as well as a representative from finance to consult on what data has to be transferred into the finance system, she said.
Ms Ward developed Care Collaborator after she noticed a gap in the market while working with case managers on a CDC model at VincentCare Victoria, where she was executive manager for corporate services.
The requirements under CDC made the system much more complex and this program aimed to take the complexity out, she said.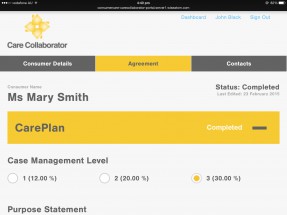 It operates via a web browser on an internet-enabled mobile device, such as a tablet or laptop.
The care manager enters the client's personal details including their ACAT and Centrelink assessments to determine the level of government funding and any income-tested fee, before developing a care plan based on what services and products the consumer needs to remain at home.
"My software also has a service schedule. I set up the home care provider's suppliers in there. It has a drop down with costing and units that will put in the expenses to create the individualised budget," Ms Ward said.
"The consumer has the opportunity to preview the Home Care Agreement including the annexures and then sign the documents via the mobile device, enabling services to start immediately. The agreement is then emailed automatically once signed to the consumer or carer, or they can receive a hard copy if requested," Ms Ward said.
All the information collected can be integrated into the provider's existing systems via a dataport eliminating the need to re-enter it, she said.
When integrating data, Ms Ward said it was important providers got their processes right from the system they initially captured the data in to what was integrated, how and when.
"A client management system is like a sub-ledger and there's no need to capture all the detail in the finance system," Ms Ward said.
For providers taking part in the software trial, Ms Ward is offering to review their current CDC systems, processes and costings in order to provide recommendations on workflows, and ensure pricing is adequate and all expenditure covered.
Home care providers interested in testing Care Collaborator should contact Debra Ward via debra@carecollaborator.com.au or 0438 020 728.
Sign up to Technology Review's weekly e-newsletter for news and analysis, as well as coverage of the latest products, resources and events.