Ageing in place at home is giving way to ageing in place anywhere, thanks to the emergence of a new wave of assistive technology and so-called mobile health, says a top expert in the field.
Professor Greg Tegart, a leading scientist and advocate for smart assistive technologies for the aged and disabled, said that the traditional barriers to greater uptake of the technologies were changing as large atypical healthcare players such as Google and Apple came into the market.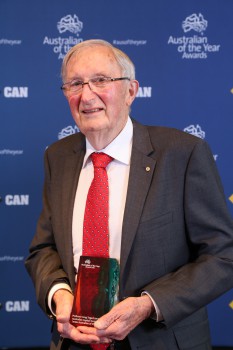 These barriers included a lack of integration among technologies and devices, insufficient funding for large-scale trials to provide evidence-based proposals, and a lack of business plans to attract investors into the installation of major systems.
These players, which also include Telstra Health, Philips, HCF and even some retailers, are prepared to provide products and strong service, he said.
"This is coupled with the dramatic increase in mobile health as mobile smart phones become ubiquitous, to the extent that many experts are predicting the demise of home-based devices for measuring vital parameters," Professor Tegart told Australian Ageing Agenda.
"This can be done unobtrusively with wearable devices and data transmitted from mobiles," he said.
Mr Tegart, who was awarded ACT Senior Australian of the Year in 2015 in recognition of his work in assistive technology, spoke to AAA ahead of his appearance at the upcoming ITAC conference.
What's the next disruptive technology?
Discussing the technologies that had the greatest potential to impact the care of older people, Professor Tegart pointed to wearable diagnostics, robotics and social media.
"Wearable diagnostics are clearly a significant disruptive technology. A wide variety of these are under development such as wireless skin sensors which fix to the skin like a tattoo and measure heart rate muscle activity and temperature; other sensors can monitor glucose levels and deliver insulin on demand," he said.
Other movement sensors could be built into jewellery or fabrics, and powered by flexible woven fabrics generating electricity, he said.
"The development of suitable and reliable apps for smart phones supports innovation in wearables," he added.
Robotics were another major disruptive technology in a number of ways, he said.
"One is to provide companionship and safety through humanoid or animal robots. This becomes important as the ratio of carers to patients decreases as the numbers of older people increase, which impacts on both home and hospital care," Professor Tegart said.
"Another is the use of robots in hospitals for selected surgery and for analysing medical imaging records to free doctors to deal with the increasing numbers of older people with chronic conditions requiring hospital attention."
Similarly, Professor Tegart said that autonomous vehicles could significantly change the quality of life for older people.
"People with minor disabilities, mild dementia and anxiety about public transport could have new fields opened to them by the development of UBER systems using electric autonomous vehicles to transport them. This is an added benefit of the worldwide thrust towards autonomous vehicles arising from success in the mining industry."
Elsewhere, social media would continue to be a major driver of change, through the sharing of information on areas including healthcare, the performance of institutions in dealing with older people, new products and new approaches.
"This links to the empowerment of the patient and a drive to use new assistive technologies," he said.
Supporting innovation, uptake
Asked what role government had in nurturing greater ICT adoption, Professor Tegart said that as a major provider of funds for healthcare, the government needed to be aware of where economies and increased efficiency could be achieved in a changed healthcare system.
"Clearly the technologies and their applications all stem from innovation. They are driven by different sources – companies looking to improve existing business or looking to new opportunities, academic researchers seeking new knowledge or seeing new applications and entrepreneurs with new ideas," he said.
The ITAC conference runs 28-30 November in Melbourne.
Want to have your say on this story? Comment below. Send us your news and tip-offs to editorial@australianageingagenda.com.au 
Subscribe to Australian Ageing Agenda magazine (includes Technology Review)