Establishing a code of practice, pay and conditions, and better recognising personal care workers are among the issues that sector stakeholders have raised with workforce taskforce, says chair John Pollaers.
I have long been concerned that as a society we treat ageing as a problem, a sign of weakness.
Australia has the opportunity to reframe this thinking so older people and their families and carers feel inspired and equipped, not helpless and confused.
Ageing well, with dignity and independence, is something everyone deserves.
Expectations of the aged care sector are understandably high. Everyone wants their family members to be treated with dignity and respect. But equally, we all want an aged care industry that the community values, which attracts and retains a workforce that's proud of its contribution to society, and is recognised and rewarded accordingly.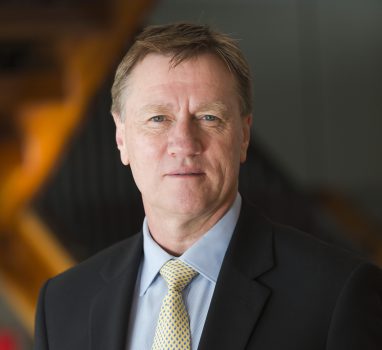 The Aged Care Workforce Strategy we are developing views the aged care sector as an economic contributor, not an economic cost, to the community and nation more broadly.
This strategy is based on extensive consultations and engagement with consumers, their families, workers, employers, health professionals, volunteers and informal carers.
The strategy will be shaped around five "imperatives" – leadership, organisation of work, skilling, innovation and the practical application of research and technology.
I'm keen to make sure this strategy is more than words on a page. It needs to reflect the views, challenges and vision of the sector. And it must be owned by consumers, the workforce and industry as a whole, as these are the people who'll bring it to life.
The taskforce is making real progress in identifying the many challenges and issues facing the sector, and, most importantly, coming up with a strong vision for the future.
Early feedback from sector
During the past few months I've heard in detail about the real issues the workforce strategy will need to address, such as the impact of massive demographic change, disparity between providers, the need for new skills and knowledge as the nature of work changes, and supply and retention of the workforce.
I have also heard the feelings of a sector that wants Australia to understand why it matters to the future of us all.
For many, accessing aged care is far more difficult and burdensome than it need be.
We need a whole-of-government, industry and community effort, across the health, education and training, human services and employment portfolios, with a focus on the needs of the consumers of aged care. It isn't about fitting consumers within the current system but rather it's about enhancing their lives.
Based on the consultations so far, some clear actions are emerging.
Qualifications and pathways
Education and training is an area requiring change, especially boosting the competencies and skills of the existing workforce, with a focus on practical skills and known competency gaps. Notably, the job title of "personal care workers" needs to be reassessed so people working in the industry see themselves as professionals, and the full range and value they provide is better recognised.
Similarly, there's the need to reform education and training offerings provided for the industry through the vocational education and training system and higher education. This includes examining entry-level qualifications, and career pathways, along with recognition of the full range of competencies required as we move toward living well models of care and recognise the benefits of integrated care.
Care planning
Another emerging area is care planning and profiling people to inform models of care. For residential aged care, this includes planning care over days, night and weekends. These models of care need to emphasise the relationship between staff and consumers, with a focus on quality of life, rather than purely clinical care.
We need to think more about the consumer journey, and improving connections between home care, residential care, primary care, sub-acute care, functional health and financial and retirement planning. Workforce planning and skills mix modelling is emerging as an industry-wide competency that can be strengthened to ensure clearer line of sight between existing and emerging business models, their consumer profiles, individual/aggregate care plans and the workforce decisions being made.
Dementia, palliative care
It is no surprise that equipping the workforce to respond to dementia, mental health, and end-of-life are also areas that have been raised. The workforce are at the frontline, dealing with death and dying every day, and we need to look after their health and wellbeing and give them support and recognition. These issues are appearing across the aged care, primary care and acute care systems – all part of the aged care workforce and each requiring a renewed focus.
Pay and engagement
Pay and conditions includes benchmarking pay against comparable industries and understanding the variations in pay across the industry in addition to the other factors that are equally important as part of employment arrangements. There needs to be a better alignment of employee engagement factors to help attract and retain people to the industry.
Using evidence
Another area that's been raised is the importance of using research and data about care outcomes to inform best practice and improve the transparency of the industry. We need a change in mindset, where the industry shares best practice and focuses on accountability and transparency of data.
Establish a code of practice
For me, transparency is paramount and there is a clear opportunity for the industry to step ahead of community expectations and establish its own code of practice. This could define standards of quality and safety in a "living well context". By focusing on aspirational expectations of the industry it could go beyond matters of compliance in addressing consumer-led approaches, community engagement, board governance, best practice sharing, industry benchmarking and workforce accreditation.
Supporting research, technology
We're hearing feedback about improvements to government funding approaches to research and the need for a fresh look at the ecosystem required to support academic, industry and government partnerships in the translation of research and technology into new models of care and practice.
Diverse settings
We've also heard about the need for the workforce strategy to cover the specific circumstances applying in rural, remote and very remote settings. We also know that increasing recognition of the diversity in the aged population will drive demand for a greater diversity of services in the sector.
Sharing our insights and successes will be important as we execute the strategy and bring it to life. I encourage all stakeholders to take the time to contribute to this vital work over the next few months.
Online consultations are open until March 16. Information about face-to-face community and industry consultations and the second phase of public consultations is available here. 
Professor John Pollaers is chair of the Aged Care Workforce Strategy Taskforce.
Comment below to have your say on this story
Send us your news and tip-offs to editorial@australianageingagenda.com.au 
Subscribe to Australian Ageing Agenda magazine and sign up to the AAA newsletter